That seems like the common question if not the most common thought on everyone wearing braces. Getting the braces on takes some time to adjust but time can never come quickly enough when it's time to get them off.
Before we start your treatment plan we do try to give the best estimated timeline for how long your braces will stay on but there are a few factors that come into account and one of them is you.
Are you wearing your elastics as prescribed? Are you making all of your scheduled appointments?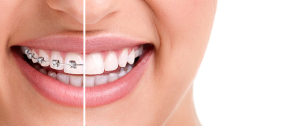 Theses are some questions to consider before the braces come off.
Are my teeth straight?
Do my top teeth line up correctly with my bottom teeth?
Are there any spaces left between teeth that need to be closed?
Do the upper teeth overlap the lower front teeth correctly?
Is the overbite or underbite corrected?
How long has it been since everything has been corrected?
Of course we are always adjusting the timeline to get your braces off but we are happy to discuss your progress as the treatment progresses to give you a more accurate time.
At DelliGatti and Milewski Orthodontic Group we strive to keep to our original estimated time and work with you to create a beautiful lasting smile.